Description
Details
Joyetech eGo ONE VT Kit, Silver
The eGo ONE VT Kit by Joyetech is the world's first eGo-style device to incorporate temperature control! When used with nickel or titanium wire or coils, temperature control ensures the most consistent vape experience and eliminates dry-hits and burning. The eGo ONE VT Kit comes with everything you need to experience temperature control in an easy, streamlined way!
The eGo ONE VT battery has 3 modes of operation: Variable Wattage Mode, Nickel Variable Temperature Mode, and Titanium Variable Temperature Mode. 5 clicks of the fire button turns the battery on or off. While off, hold the button to change modes. While on, press the button 3 times quickly to choose Low, Medium, or High. This adjusts the heat and power output for more vapor.
The eGo ONE VT Kit also comes with a 4mL eGo ONE Mega Tank. This tank has adjustable airflow, and is compatible with all types of Joyetech CL Atomizer Heads.
Joyetech has once again set the new standard for eGo devices! Now you can experience temperature control whether this is your first starter kit, or you're a vaping veteran!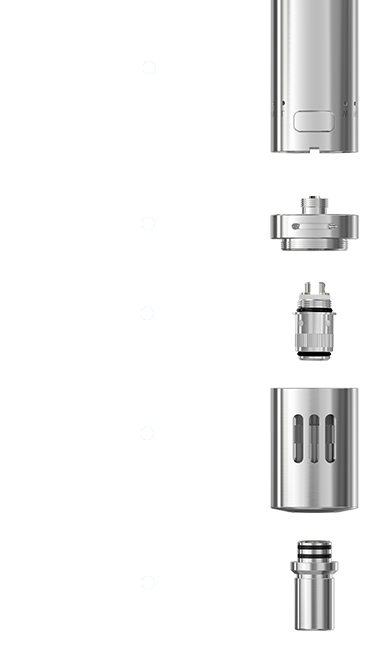 Features:
Dimensions: 142mm x 22mm
Atomizer Capacity: 4mL
Battery Capacity: 2300mAh
Resistance Range - Variable Wattage: 0.4Ω to 3.5Ω
Resistance Range - Variable Temperature: 0.2Ω to 1.0Ω
Temperature Settings - Ni200: Low = 430F, Medium = 480F, High = 600F
Temperature Settings - Ti: Low = 430F, Medium = 470F, High = 600F
USB Passthrough Charging
LED Indicator Lights
510 Threading
Included:
1 x eGo ONE VT Battery
1 x eGo ONE Mega Atomizer
1 x eGo ONE CL Head - 1.0ohm
1 x eGo ONE CL-Ni Head - 0.2ohm
1 x eGo ONE CL-Ti Head - 0.4ohm
1 x Micro USB Charging Cable
1 x 1A Wall Adapter
1 x User Manual and Warranty Card
Reviews
Tags
You may also be interested in the following product(s)